Interim results reflect tough times for steel sector
By Xie Jun Source:Global Times Published: 2015-8-31 21:08:01
Share on twitterShare on facebookShare on sinaweiboShare on linkedinMore Sharing Services0
Restructuring looms as competitive pressures persist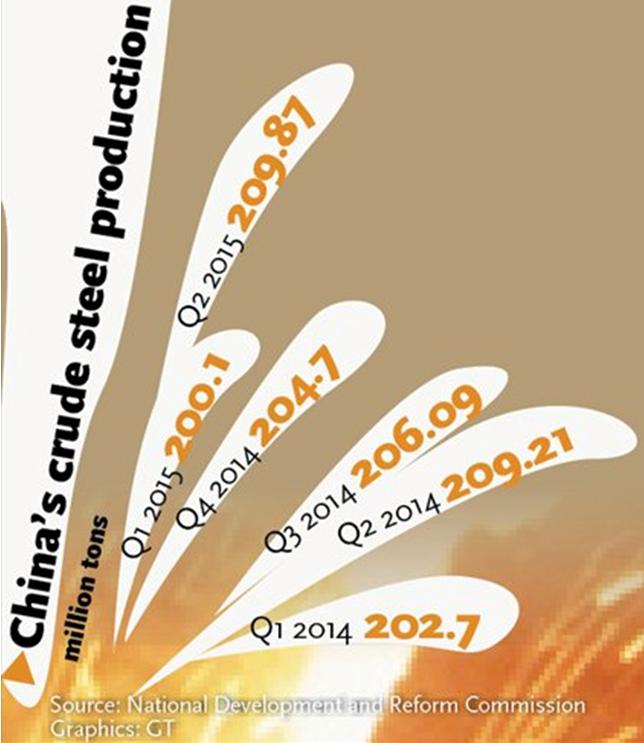 Many listed steel companies have reported losses for the first half of 2015, showing that China's steel industry is still mired in a severe downturn, experts said on Monday.
According to a report by the Securities Daily on Monday, of the 31 listed steel companies that had released interim statements as of Friday, 23 reported lower revenue and 13 reported total losses of 8.4 billion yuan ($1.32 billion).
The largest loss was reported by Chongqing Iron & Steel Co, which is based in Southwest China's Chongqing Municipality. The company, which released its statement on Thursday, said revenue slumped 25.22 percent year-on-year. It lost about 2.2 billion yuan, compared with a year-earlier loss of 945 million yuan.
According to Beijing Business Today newspaper on Monday, Chongqing Iron & Steel has reported widening losses for five consecutive years, indicating that the company's business is "constantly deteriorating."
Chongqing Iron & Steel attributed the loss to the weak domestic market, a shortage of capital and debt burdens.
The company could not be reached for comment by the Global Times as of press time.
Another State-owned steel company, Beijing Shougang Co, suffered a net loss of 223 million yuan, according to its half-year financial report released on Wednesday.
But the picture wasn't all bleak, with some mills reporting strong results.
Fushun Special Steel Co, based in Fushun, a city in Northeast China's Liaoning Province, said first-half net profit jumped 803 percent to 130.8 million yuan, according to its half-year report released on August 17.
Chen Li, research director of Huatai Securities, told the Global Times on Monday that generally speaking, the steel industry is still in a downturn amid the nation's broader economic difficulties.
"It's inevitable that a number of companies will fail. But really competitive companies can survive the storm. It's a reshuffling process," he noted.
Ma Zhongpu, a steel industry commentator, noted that both the Chinese and global economies have been under downward pressure in recent years.
But he said that steel prices on the global market have not declined sharply like in China, and the global steel market is not mired in large losses in the same way as the Chinese market.
"Steel companies in China have been engaged in excessive competition by squeezing prices, which has led to the losses. If such irrational competition goes on, it will be hard for domestic steel enterprises to reverse their losses," Ma told the Global Times on Monday.
But Ma noted that some steel companies started to raise their prices in July to stop the losses, an encouraging sign that the fierce competition might be ending.
Chen also predicted that China's steel industry might take a turn for the better "in half a year or one year," as the central government's strategy of strengthening infrastructure construction would provide ample opportunities for the industry.
According to a report in the Shanghai Securities News on July 20, the National Development and Reform Commission, the nation's top planner, approved infrastructure projects worth 892 billion yuan in the first half of this year.
Chen said that to improve their performance, steel companies should adopt a differentiation strategy.
"They should manufacture products that are relatively scarce on the market, such as special steel, instead of ordinary products such as hot-rolled steel," he noted.
(关键字:steel Ma Zhongpu)